The Right IT Talent to Boost Your Digital Projects
Did you know you can you expand your team to succeed in your projects without wasting time and money? Our IT staff augmentation services provide the strength, speed, and flexibility that your team needs to complete development on time.
Your augmented team will work as part of your local team, attending your regular daily meetings and reporting directly to your managers, proving to be a real competitive advantage for your software development process.
The size of your project's no issue! From prototyping to full-scale development of desktop, mobile or web applications, testing, and systems management, Advancio's staff augmentation service is here to help you!
We deliver IT outsourcing solutions by personalizing our services to drive meaningful change, providing an all-around support, maintenance and testing. Choose how we collaborate with you! Our experts can work with your team either virtually or at one of our innovation centers.
Just Hand-pick the talent you need:
Software Development.
UI/UX Design.
Software Quality Assurance.
Project Management.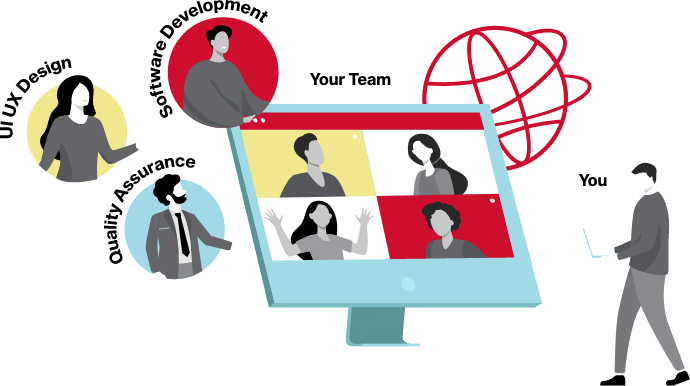 Our Staff Augmentation services are a proven, quick, reliable and cost-effective way for you to increase the size and productivity of your software development team with experienced and skilled talent.
Starting from $30 hr/per source you can team up and boost your project.

1. Tell us about you
Fill out the Contact Form and we'll contact you to talk about your company, project, and goals.

2. Meet your team
We will assign a custom-build software development team to your project.

3. Start your Project
Your new development team will start working on your project from day one.

Learn about how we've helped clients reach their goal and find the answers for your business.
Why Advancio?
Advancio brings together high-quality technology experts, state of the art development tools, and award-winning processes to form powerful engineering teams. Offering innovative software solutions that will boost the performance and development of your company.
Make your technological innovation process easy and pleasant with us.
Our Work
We have provided Development Services to more than +100 start-up, growth, mid-market and enterprise companies.
Submit your information and project needs so one of our experts can contact you!